studied ballet, jazz and show dance at Stuttgart's prestigious Cranko School and the Bosl Foundation, Munich.

She spent several years in Paris and Los Angeles as a dancer and choreographer, exploiting the opportunity to add hip hop, street and break dance and further show dance skills to her already comprehensive repertoire of styles. Returning to Germany, she gained an impressive reputation in the event and show industry by staging a host of innovative shows.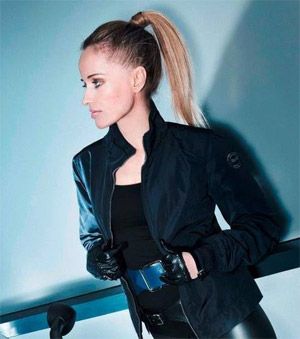 Alexandra Martens' enormous versatility is rooted in her extensive experience as a dancer and choreographer with international TV productions, video clips and major trade fairs and exhibitions.
She is constantly on the lookout for new trends, enhancing her unique choreographical works by incorporating new directions.

In addition, the highest international standards are maintained by a permanent exchange of information and experience with the choreographers of London's famous Pineapple Studios and the Broadway Dance Center in New York – both the birthplaces of new trends!

Depending on production type and requirements, she recruits her dancers both nationally and internationally, from Holland, France, England and the US.

Her selection procedure prioritises not only outstanding dance technique and artistic versatility, but also powerful stage presence!


Alexandra Martens works with an extensive network of high end partners to provide also innovative, cutting-edge multimedia concepts in combination with performance. She also has a network of DJs and high-profile hair/make-up stylists.
Specialties:developing extraordinary, performance ideas, ensuring quick, professional implementation,
setting new standards in show & dance performances, comprehensive network of dancers, dancer-models & talents, artistic consultancy on high end events & product presentations
choreography & creative consulting for high end corporate & private event performances & stage shows
casting & booking of dancers, artists and models, selection of music
model runway coaching
international trade fairs, exhibitions & conferences
fashion shows, TVC & video shoots
TV show productions
creating emotion
embodying most current trends
style-setting

dancer choreographer
creative director personal coach